What is a flame fired process?
Every flame fired process is dictated by the reaction of a fuel in the presence of oxygen or an oxidized environment; this reaction is more commonly known as combustion or more simply burning. Fuels used may be solid, liquid or gaseous and common examples include wood, coal, natural gas and other hydrocarbon variations, biodegradable waste and used tires.

The most common example of a combustion process occurs in the engine of your car. When gasoline (fuel) is ignited by a flame within a very small area of a car's engine it releases a great deal of gas which then pushes the car's pistons, which then rotates the car's crankshaft, and ultimately this will then turn the car's wheels. Another common example is a coal power boiler. The stored energy in coal is released by combustion and converted into electricity. When coal is burned in air the carbon in the coal and the oxygen in the air react to produce CO2 and heat. The heat is then used to convert the water within the boiler into steam. The high pressure steam is used to turn a turbine and a generator converts this mechanical energy into electrical energy. About half of the world's electricity is created this way. Waste treatment is another example of a flame fired process. Hazardous waste is fed into into a rotating combustion chamber of an inclined rotary kiln. The combustion of these waste materials creates heat, ash, and flue gas which is then treated before being released into the atmosphere.
As you can see the presence of a burning flame is the catalyst in these kinds of processes. Therefore close temperature control of the flame is absolutely essential to ensure that these processes are occurring efficiently.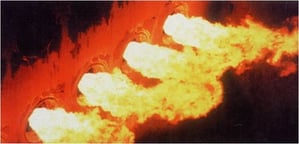 Other Flame fired processes include:
Power Boilers
Incinerators
Industrial Furnaces & Kilns
Thermal Reactors
The Nature of Flames
Temperature control of a flame fired process is tricky because of the elevated temperatures along with the presence of a burning voluminous flame. A non-contact infrared pyrometer is recommended because of the harsh conditions found in these areas. Thermocouples have proven to be inaccurate and constant replacement of these contact devices become costly. To better understand the challenges of making temperature measurements of flame fired processes we must understand the nature of flames.