3 Infrared Technologies to Use in the World of Competitive Annealing
Not all annealing lines have the same accuracy requirements. Some alloys require tighter temperature control than others. Plants that run high-strength steel or dual/complex-phase steel require precise control of steel temperature. Plants that run low-alloy steels for non-transportation and non-appliance applications often can produce a high-quality product with looser control of the steel temperature; however, these plants also benefit from the improved speed and energy efficiency associated with precise control of steel temperature. Regardless of alloy, effective temperature control of steel dictates the use of an accurate infrared pyrometer. Better temperature control allows plants to perfect their recipes which improves efficiency and lowers operating costs. Moreover, precise temperature control ensures final product quality and repeatability. Infrared pyrometers are the best solution for continuous annealing lines because of their ability to make accurate non-contact temperature measurements. However not all pyrometers offer the same level of performance and different wavelength technologies further validates this.
Pyrometers are typically installed on a continuous annealing furnace using one of two mounting techniques.
1.) Roller Wedge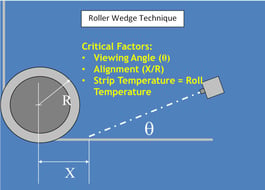 The roller wedge measurement technique, also known as the nip measurement technique or as the low-angle multi-reflective measurement technique, relies on the unique geometry associated with the roller nip combined with a low-angle of alignment to artificially enhance the apparent emissivity of the strip and to eliminate the influence of hot background reflections. Roller wedge measurement conditions are valid and the technique is appropriate only when certain conditions are met: (1) the roll and the strip are the same temperature and (2) the pyrometer must be mounted at the sweet spot—an appropriate shallow angle to produce a significant number of reflections.(*)
2.) Direct View
The direct view measurement technique is used when the roller wedge measurement technique is not